Kristen Deming was a former Towpath member and President of the Haiku Society of America. At the March 12, 2022, Towpath meeting, member Roberta Beary presented the following talk on Kristen's haiku journey.
❀
Kristen grew up in a modest environment in a small town in Florida. Her determination to make something of herself resulted in her being the first in her family to attend college. Kristen credited her days at Rollins College in Winter Park, Florida, with two major life events.
The first was her marriage to Rust Deming, who traces his roots to writer Nathaniel Hawthorne. Throughout their more than 50 years together, new worlds opened to Kristen.
The second was her discovery of haiku. This discovery served her well on the haiku path and stayed with her throughout her 80 years.
I first came across Kristen's haiku while living in Tokyo in the early 1990s. As the wife of a high-ranking diplomat, Kristen lived at the American Embassy Compound, and was known for writing haiku with the Empress of Japan during the New Year festivities. She was very reticent about such honors and never sent any pictures from those events. However she did provide one photo from her time in Japan: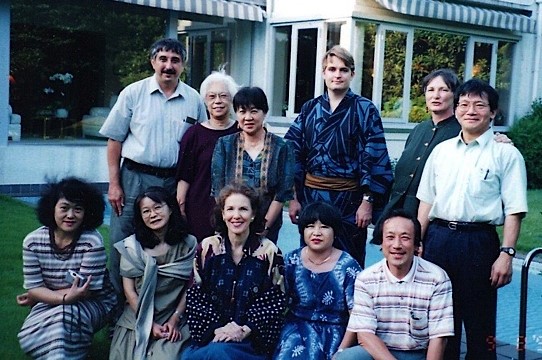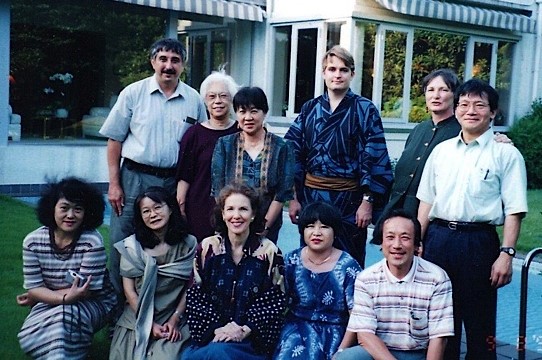 In the late 1990s, during her tenure President of the Haiku Society of America, and using skills honed through her diplomatic circles, Kristen coordinated groundbreaking haiku conferences both in the USA and in Japan. But it was back in the States at Towpath gatherings that I came to understand Kristen's love of haiku. Over the next 20 years, we formed a close friendship. Kristen and I met to workshop our haiku, along with Lee Giesecke and Ellen Compton. We called ourselves the 'mini Towpath group.'
Kristen was not one to talk up her writings. However she did give me a copy of her collaborative book: Red Fuji: Selected Haiku of Yatsuka Ishihara, by William J. Higginson, Tadashi Kondo, and Kristen Deming (From Here Press, 1997). If you are able to find a copy, hold onto it!
When I returned to the States from Japan in late 1995, I received a copy of Haiku International's special issue journal. In it was this haiku by Kristen, which was commended by one of the judges.

insect voices
coming from somewhere
deeper than the grass
(Commended: haiku international special issue 1994 International haiku contest in commemoration of the 300th anniversary of Matsuo Bashō )
I always have loved the mysterious quality of this haiku. I am especially taken with the idea of insect voices and the link to deeper than the grass. When Kristen asked Lee, Ellen and I to have a look at her haiku manuscript in 2013, she did not include the 'insect voices' haiku. I asked her to include it and she responded in an email, "Thanks, Roberta. I'm amazed that you remember that, "deeper than the grass"! So long ago! Some of my old poems were not particularly good ones! I'll take your idea under advisement." Ultimately, Kristen omitted that haiku from her manuscript.
For insight into Kristen's writing process, I'd like to share this haiku for which Kristen won the Museum of Haiku Literature Award (Frogpond (2013):

dawn swim―
making a butterfly of water
of light

Not one to talk up her awards, Kristen didn't mention her win until I sent her an email congratulations. In her response, she delved into how this haiku came to be: Thanks, Roberta. It was a big thrill and a real surprise. I wrote "dawn swim" for a friend who swims at dawn every day with a group, so I, who only "dog paddle," had to put myself into her world…We never know where our haiku will go!
I had the pleasure of picking one of Kristen's poems in the 2014 Robert Spiess contest, sponsored by Modern Haiku. As the contest was blind, and as Kristen had workshopped the poem while I was absent from Towpath meetings, I had no idea Kristen was the author:

alone now
no ruby slippers
to take me home
Third Prize, Robert Spiess Haiku Competition (2014)

Here is Ellen Compton's writeup about Kristen's Spiess 3rd Prize win (Towpath newsletter Meeting of June 14, 2014 excerpt:

The winning haiku first appeared at a Towpath meeting—we can all be proud! Full disclosure: Roberta was the competition judge. As is the case for most haiku competitions, the judging was blind; that is to say, winners' names were not revealed until the judging was complete. Roberta was away during the period when the poem was read at Towpath and so was seeing it for the first time during the competition. From her published comments: The haiku presents "a twist on the universal feeling of loneliness by adding a touch of dark humor. The second line, originating in the film classic the Wizard of Oz, . . . adds depth to the haiku."

As I've stated, Kristen was a modest person, especially regarding her haiku. However, she was very kind to those in need. When my mother died in 2013, Kristen shared this unpublished short form sequence about her mother's death. When I encouraged her to send it out for publication, Kristen responded that it was 'rough and unfinished'. I am happy to share it with you here.

Breaking the Umbilical
mother
gone,
as if into thin air:
or so it feels.
I imagined there was
a cord
light as a butterfly's touch on
a petal's tongue
but it was a strand
fashioned deep
in baby's slumber
wound through vein and ventricle
it was made of steel
winding me close, letting me go,
winding me close, letting me go,
reeling me in again
there are no words
to explain ….
I find myself suddenly
separate

Kristen also had a fun-loving side. She had a collection of ornamental frogs amassed over the years from countries visited with her husband during his diplomatic career. She also had an artistic side, as evidenced by this photo she sent me a year before her death, when her health was very poor. In the accompanying email, she said that it was "an old one I drew":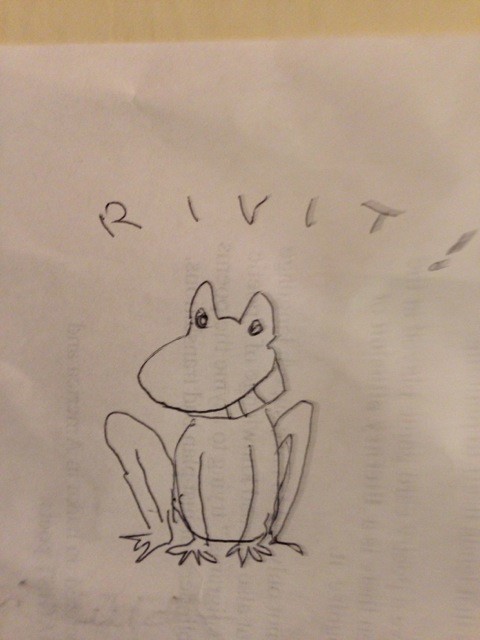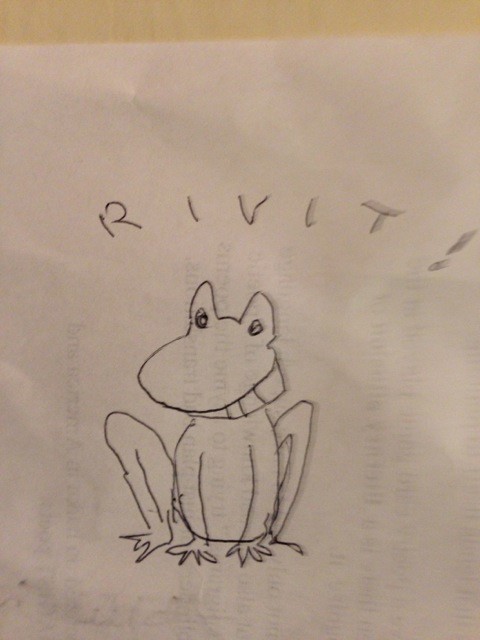 Throughout Kristen's two decades with Towpath haiku poets, she organized many events for the membership through her diplomatic connections. Highlights include inviting members to moon-viewing sessions at the National Arboretum, providing members with a tour of the Japanese Embassy grounds, including the teahouse, and arranging for Towpath sponsored events as part of the The National Cherry Blossom Festival's annual spring celebration in Washington, D.C. She also hosted many Towpath meetings at her home in Bethesda.
Here is a photo of Kristen at her home in 2012. She kindly agreed to host a Towpath meeting that day, and showed us some of her treasures from Japan, including her collection of sake cups.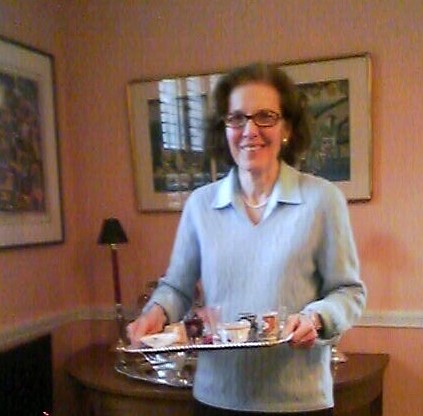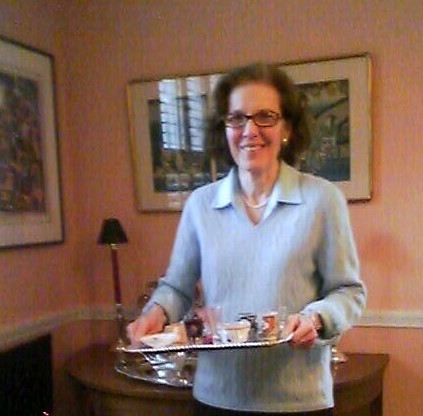 When Kristen became ill, she decided to focus what energy she had on a haiku manuscript for entry into the Snapshot Press book award contest. Lee, Ellen and I helped her by tweaking some haiku and vetting others. Although she did not win, her determination and grit propelled her to rework the manuscript and submit it to Red Moon Press.
plum afternoon was published by Red Moon Press in 2017, two years before Kristen's death. It received two Honorable Mentions: Touchstone Distinguished Books Award and Haiku Society of America Merit Book Award for Best Book of Haiku. Here are three haiku from her collection:

new green leaves
the faint hum
of a power line

my body
his body
plum afternoon

a kind of afterlife …
you her him
them

For a sample of Kristen's award winning haiku, see The Haiku Foundation website.
For those interested in Kristen's life as the wife of a career diplomat and ambassador, see her obituary.
An article about Kristen's husband's diplomatic career appears here.